Trust Company for Jamaica
Person in charge

Touki Yano
Hi thank you for coming to Trust Company Jamaica country page.
My name is Touki Yano sales representitive. If you have any question please let me know!
You can contact us by:
EMAILtoukiy@japanesevehicles.com
TEL+81-52-219-9024
Whatsapp+81-90-4262-8383
Customer's Voices from Jamaica
Mr.R.S
the client says he loves the succeed... So thanks for another wonderful car.
Mr. C.P
I'm very pleased with car. [...] just brought it to me now all my worries are over I'm now in first gear to do some good business with u tonight.
Ms. O.B
Good Afternoon Touki Yano,
I would like to say thank you very much for your kind assistance and for my purchase.
I received my Daihatsu Mira and is very happy with it. Thank you very much again.

How to buy
Import regulations for Jamaica, vehicle years allowed:
-Small trucks under 10 tons: year 2008 or newer
-All other passenger vehicles: year 2013 or newer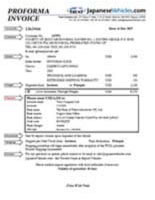 You can request an FREE pro-forma invoice directly from each vehicle page.
We do accept the following methods of payment:
-Bank Telegraphic Transfer
-MoneyGram
-PayPal
-Paytrade by JUMVEA

Visit our payments page or contact us for more details.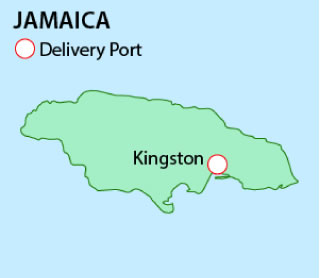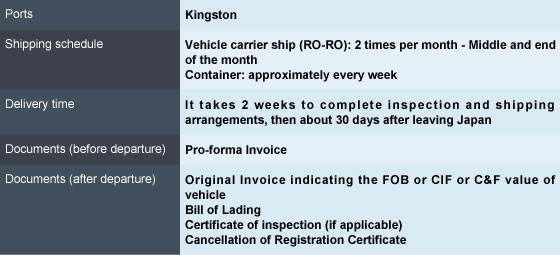 Useful Information:
-The shipping company will contact you when the ship will soon arrive to your country port. If not, please contact them whent the date is close to the arriving date that is on the BL.
All information above is subject to change without notification.
Please contact your local customs clearing agent and inquire for latest updates.
Spare parts service
We sell spare parts from Japan though the website parts.japanesevehicles.com , with over 500,000 items in stock.
Our professional Spare Parts Team can also provide you with a personalized quote for the exact parts you need for your Japanese or foreign make car.
Click here to request a FREE quote for vehicle parts from Japan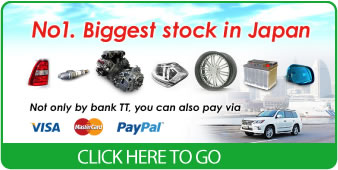 Looking for business partners in Jamaica
Trust Company Ltd. offers a local partnership collaboration program
that offers rewards when you sell or help selling a vehicle
from JapaneseVehicles.com.
What are the advantages for you?
Earn money by helping people buy used vehicles from JapaneseVehicles.com.
Receive direct and free marketing support according to your results.
Receive personalized assistance from your dedicated sales staff.
How to apply?
Send us your resume or an introduction of yourself to toukiy@japanesevehicles.com.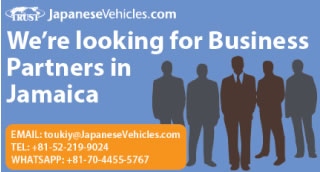 Benefits of Trust Company Ltd.
Over 1000 vehicles in stock
find the right car for you.
Multi-language assistance directly from Japan
it is easy to communicate with us.
Skilled and experienced shipping staff
receive your car without troubles to more than 300 destinations around the world.
Professional vehicle maintenance and a reliable grading system
buy your car with confidence.
Spare parts service
easy ordering of spare parts for your vehicle.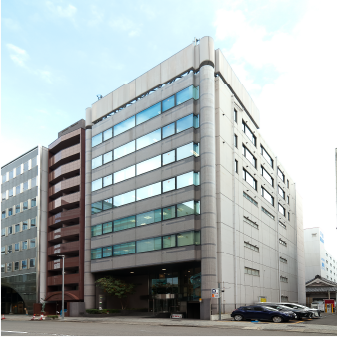 About VT Holdings Co., Ltd.
About Trust Company Ltd.
-Estabilished in December 1988.
-Headquarters in Nagoya, JAPAN.
-Listed on Tokyo Stock Exchange: 2nd section (Code: 3347).
-Consolidated sales: 152 mln USD (March 2017).
Main businesses
Export of used cars from Japan to over 160 Countries.
Car-rental in Japan with more than 130 offices.
3 car dealers in South Africa.
Trust Company Ltd. is part of VT Holdings Group.

Listed on the Tokyo Stock Exchange.
Code: 3347
Member of Japan Used Motor
Vehicle Exporters Association.
No. 000274

Members of Nagoya Chamber of Commerce.
No. 0534412-07864
About Trust Company Ltd.
-Estabilished in March 1983.
-Headquarters in Nagoya, JAPAN.
-Listed on Tokyo Stock Exchange: 1st section (Code: 7593).
-Consolidated sales: 1,513 mln USD (March 2017).
-One of the largest automobile dealer groups in Japan.
Group companies: car sales related business.
Japan: 8 car dealers with more than 140 selling points in total.
Japan: 3 car and motorbike import companies.
United Kingdom: 3 car dealers.
Australia: one car dealer.
South Africa: 3 car dealers.
Spain: one car dealer (20 selling points).
Group companies: housing related business
4 housing relates companies.