Used vehicles inspection and quality checks.

Every second hand car comes in different condition.
At Trust Company Ltd., as our name suggests, we believe it is important to let our customers know everything about our vehicles. This is why we list any relevant issue in the "Remarks section of each vehicle.
Our team of experienced inspectors certified by the Japanese government is here to conduct a thorough inspection on each vehicle. We make sure to find out any issue to provide the best quality possible, and give a new life to all our vehicles.
It is hard to describe our quality with words but we are confident that you will be convinced of the superiority of our service as soon as you will receive your vehicle.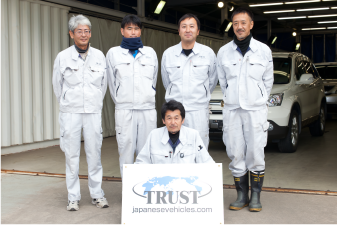 Vehicle quality checks
ENGINE FUNCTIONS
We check each vehicle's engine and transmission to make sure everything is in working order. The engine functions and check lamps are checked with diagnostic tools. Our inspection also includes cooling system, fluid levels, belts and hoses, etc.
EXTERIOR AND INTERIOR
The exterior of each vehicle is checked for dents, scratches and other damages.
Damages that compromise the reliability and safety of the vehicles are fixed. We also check interior equipments and tools and verify that everything is functioning correctly.
STEERING AND BRAKING
The steering and brake systems are vital for the safety of the vehicle. This is why a thorough and detailed check is carried out and any necessary repairs are performed to provide safe and reliable driving.
ELECTRICAL SYSTEM
We make sure that all elements of the electrical system such as the battery, lights, wipers, switches and electrical controls are working. We recondition or substitute any element judged problematic for proper operation of the vehicle.
CHASSIS AND UNDERNEATH
All our vehicles are put up on ramps to check for rust, corrosion, torn boots and joints and any leak of water,oil, or fuel. Our ramps are equipped with lighting specially designed to avoid overlooking any problem.
CAR WASHING
All our vehicles are thoroughly washed before we inspect the exterior and chassis to make sure we do not overlook any damage or problem.
TYRE CONDITION
We measure the tyres tread depth for all tyres and replace them when judged necessary. Tyres are also checked for cracks and any damages on the sidewall, wheel , wheel nuts and bolts.
SEAT CLEANING
We do our best to make the interior of each vehicle as clean as possible.
We also clean seats with professional equipment whenever we notice any stain or smell that stands out.
Team of experienced mechanics certified by the Japanese government
All our inspection team members own an official license emitted by the Japanese Government.
This official license requires several examinations to be passed as well as a solid experience as a mechanic, making sure our team has all the skills and experience needed to perform proper inspections.
Having a team of certified mechanics is really important for us to ensure the quality and reliability of the used vehicles we provide.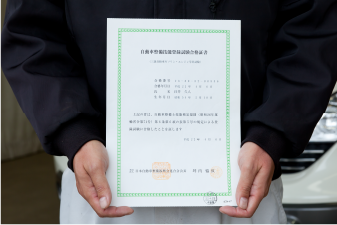 Vehicles grading system
All vehicles exported by Trust Company Ltd. (JapaneseVehicles.com) undergo a standardized Quality Control inspection to ensure the vehicle's quality.
Inspection is carried out upon arrival of the vehicle in our holding yards. Each vehicle is graded, according to Trust's Quality Grading System, and photos are then taken for display on the website.
Trust - Top Quality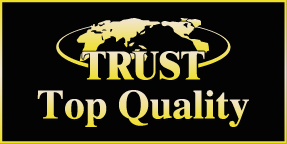 The highest quality for used vehicles.
Great condition vehicles: clean interior, almost no visible scratches, sound mechanics. Only the very best quality vehicles are listed in this category.
Trust - Recommended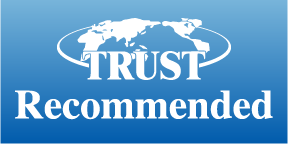 Best Balance between quality and price.
Very good condition vehicles. No mechanical or electrical problems. No relevant damages on the body. These vehicles represent the high Trust quality our customers are used to.
Trust - Budget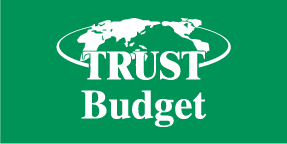 Inexpensive but Reliable.
Safe and Secure vehicles. Reliable driving is guaranteed but repairs on interior and exterior are kept to a minimum.
All vehicles from Trust Company are Safe from Radiation
We have been receiving inquiries from concerned customers about the radiation levels of our vehicles following the Fukushima nuclear accident of March 2011. While we understand our customers concerns on the subject, we would like to make clear that all our vehicles are tested for radiations before being uploaded on our website to ensure the safety of all people involved in the handling of our vehicles. To avoid any confusion concerning radiation levels, we decided to answer some basic questions our customers may have below.
Questions and Answers about cars and radiation
Is there any radiation risk in the area where Trust Company is located?
Local radiation levels here in Nagoya are normal. We are very far from the Fukushima nuclear plant where the incidents have occurred.
Are Trust Company vehicles inspected for radiation?
All of our used vehicles from Japan are checked for radiation immediately when they enter our Yard (before we begin any preparations to upload the vehicle on the website).
This inspection is done to ensure the total safety of our staff, of the personnel that handle the shipment and of the customers who receive the vehicles.
Who inspect the vehicles for radiation when they enter Trust Company Yard?
For cars in Nagoya, the inspection is performed by Japan Cargo Tally Corporation.
What happens to the vehicles that do not pass the inspection?
All vehicles that do not pass the inspection are immediately removed from our Yard. We get rid of them and they will not enter our stock.
Can you provide a document to certify that the vehicle is Radiation Safe?
Upon request, we can arrange for a "Certification of Inspection and Radiological Safety Hazard" by JEVIC (Japan Export Vehicle Inspection Center). The certification costs US$ 100.
How can I trust Trust Company?
Trust Company has been exporting Japanese used cars since 1988.
We are member of JUMVEA and the Nagoya Chamber of Commerce.
Our company is the only exporter of used cars listed on the Tokyo Stock Exchange.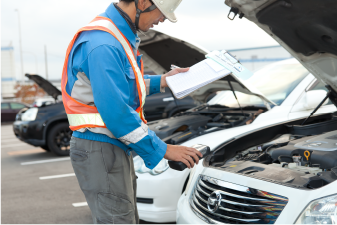 Every vehicle is inspected for radiation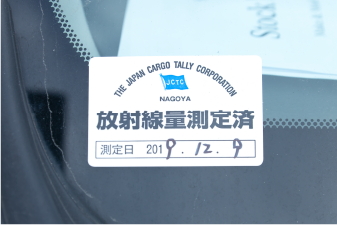 Only safe cars are allowed in our stock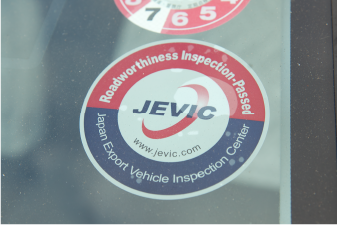 JEVIC certificate available upon request (US$ 100)